M.C.

Updated
It has already been six months since Gaspard Ulliel died. Since then, his ex-girlfriend Gaëlle Pietri has preserved their son Orso as much as possible.
Originally from the Island of Beauty, Gaëlle Pietri has of course put down her suitcases in Corsica to spend the summer there with her family. On Sunday July 31, the model took to her Instagram account to share some excerpts from this stay with her feet in the water. The opportunity for his subscribers to see his son Orso, 6, born of his relationship with the deceased Gaspard Ulliel.
View of the mountains, night spent under the stars, swimming session for two… Gaëlle Pietri and her little boy are taking full advantage of this summer in Corsica, although it is the first since the death of Gaspard Ulliel. It has now been six months since the actor died in a skiing accident, at only 37 years old. Since the tragedy, Gaëlle Pietri and the young Orso have been mourning out of sight. "5 months. You are sorely missed", had all the same confided the young woman on Instagram, in June, relaying a touching souvenir photo of Gaspard Ulliel and his son.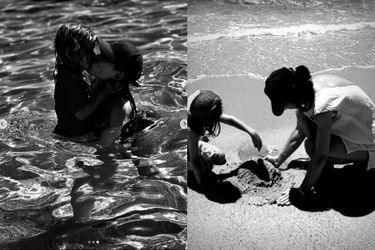 Last May, still on Instagram, Gaëlle Pietri came out of silence to return to the disappearance of her ex-companion, who had shared her life between 2013 and 2020. "The event of his departure affected us directly and individually. without us having been able to have time for preparation or even organization, "she wrote. As a reminder, the funeral of Gaspard Ulliel was held on January 27 in Paris, in the presence of many personalities upset by this sudden disappearance. The actor was then cremated and buried in the Père-Lachaise cemetery.
Gaëlle Pietri also seems to have responded to rumors evoking a possible romance between the father of her son and the Luxembourg actress Vicky Krieps, following the filming of the film "More than ever". "No one shared Gaspard's life at the time of the tragedy. It is therefore incumbent on us with Gaspard's parents to protect his memory as well as the future of Orso. I respect the dignity of the beings who, near or far, met and accompanied Gaspard during his life (…). I am happy that the film "More than Ever" is in selection at the Cannes Film Festival. I am also happy that Gaspard and Vicky Krieps supported each other on this shoot.
See as well : Gaspard Ulliel, a first photo of his last film with Vicky Krieps unveiled
The drama "More than ever", the actor's latest film, was presented at the last Cannes Film Festival in the "Un Certain Regard" category. It will be released in theaters on November 22, 2022.