M.C.

Updated
Vincent Cassel has been sharing the life of the young model for seven years now.
While waiting to celebrate their four years of marriage at the end of the summer, Vincent Cassel and Tina Kunakey celebrated their seven years of relationship on Sunday July 31. The actor and the model took to their Instagram accounts to share photos and videos together. The opportunity for the couple to relay some images dating back to the year 2019, when Tina Kunakey was pregnant with their daughter Amazonia.
"1234567!" : the time of a Story, the young 25-year-old model revealed some images of her life as a couple with Vincent Cassel. "7 years…and it still doesn't itch (but it can burn)," the actor wrote on his own account, captioning a black-and-white photo showing him with his significant other.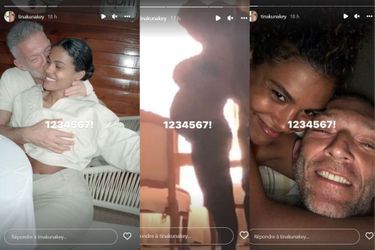 On vacation in Brazil or the Basque country, in their suite before walking the red carpet at the Cannes Film Festival, arm in arm in Paris, exchanging a few kisses in the front row of fashion shows… Vincent Cassel and Tina Kunakey regularly show their lives couple on social networks. On the other hand, to see the young Amazonia (3 years old), it will still be necessary to wait as the little girl grows up far from the media attention.
Perhaps she will make herself known as a teenager, like her half-sister Deva Cassel? At 17, the daughter of Monica Bellucci and Vincent Cassel is now illustrated as a model. Her sister Léonie Cassel (12 years old) remains discreet.