Laure Manaudou has published some pictures of her one and a half year old son, whose first name is kept secret.
Laure Manaudou is not one to expose her children. But this Saturday, the 35-year-old former swimmer posted two photos of her one-and-a-half-year-old son at the beach. The little boy, dressed in a surf suit, already seems to be enjoying contact with the waves. On the first shot, he is photographed from behind, dipping his little feet in the water. On mum's second "story", Lou's little brother (5 years old) is sitting on a surfboard.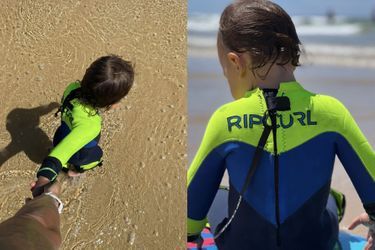 Laure Manaudou and Jérémy Frérot, in a relationship for more than seven years, have never revealed the first name of their second child. The 32-year-old singer is also very careful about the privacy of his sons. However, he had published, last April, a photo of him with Lou, enjoying a swim in translucent water.
Settled for a few years near the Dune du Pilat, in La Teste-de-Buch, Jérémy Frérot and Laure Manaudou had been forced to abandon their house, threatened by the fires which ravaged the Gironde. "Yesterday, from the path leading to my house, I saw the flames of the forest, it was getting bigger and that night, we had to evacuate, there was too much smoke, it was unbearable. It was coming into the house, impossible to fall asleep, we were afraid of becoming intoxicated and never waking up", had confided the musician to the "Parisian ", before specifying:" We have three children with Laure and we did not want anyone to come and wake us up at 4 in the morning. So we took precaution. Then the mayor then asked the whole area to evacuate".
The Olympic Games gold medalist is also the proud mother of 12-year-old Manon, born of her love affair with swimming champion Frédérick Bousquet.