He had not performed in France for four years: Friday July 29, Ed Sheeran made his comeback at the Stade de France, where he had already won over his French fans in 2018. They were already 60,000 at the time. , last night, we were 88,000 waiting for him. He himself underlined it between two songs, this is his biggest concert in France, which he has been going to since the release of his first album in 2011.
Upon arriving at the Stadium, spectators discover a central stage like a vinyl, surrounded by illuminated pylons at the end of which are suspended screens like giant picks. A staging that immediately has its small effect. The weather is nice and warm, part of the stands are sunny and the spectators settle down quietly, their cups of beer in hand. The atmosphere is meant to be relaxed and rather family: groups of young girls of course, but also parents with children, couples… Ed Sheeran's French audience is eclectic.
But before finding the star, place in his first part ensured by the young and dynamic Maisie Peters. This 22-year-old Englishwoman was signed to Ed Sheeran's label, Gingerbread Man. She was therefore able to count on the pen of the latter to write her first studio album released last year. Not easy to perform in front of a slowly filling stadium, in front of somewhat dissipated spectators, but Maisie Peters already has enough charisma and confidence to attract attention. His blond mane, his wide smile hemmed in bright red and his energy put the crowd in good conditions.
At 8:20 p.m., a ten-minute countdown is launched on the large circular screen dressed in red, yellow and black, the colors of "=", Ed Sheeran's latest album. Again, the staging arouses the excitement of the fans. The pace is accelerating towards the refreshments, so that everyone can get back to their seat in time. At 8:30 p.m. sharp, a guitar is heard and the illuminated circle goes up to reveal the Gingerbread Man, who then launches "Tides", a first title which immediately moves the 88,000 spectators. Each chorus is then accompanied by perfectly rhythmic fireworks. Again and again this effective staging, but unpretentious.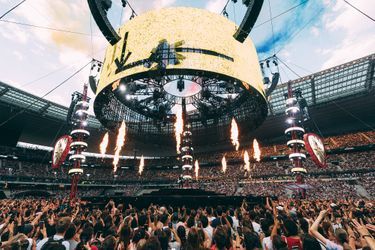 "Efficient, but unpretentious": this sums up the concert of this artist appreciated for his humility. We can of course be amazed with grandiose sets, designer costumes and an army of dancers, as during the Lady Gaga concert given in this same stadium a few days earlier. But we can also make thousands of spectators vibrate with few means, but a lot of generosity… and loops. Because if Ed Sheeran is doing so well (almost) alone in the middle of a stadium, it is largely because he has mastered the looping.
In a few seconds, the 31-year-old Briton records and superimposes guitar chords, percussion, voice… And off we go for the solo show. Ed Sheeran and his "Paris" T-shirt keep running against the direction of the rotating stage. He willingly discusses between two titles, as if it were an intimate concert. When he asks the spectators to play the choristers, everyone willingly lends himself to the game. Contact is well and truly established, in all simplicity, between the artist and his thousands of fans.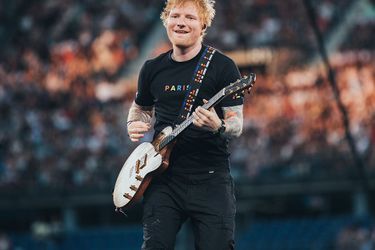 But he admits it himself, some titles only work with musicians. So for the essential "Perfect", his favorite song, and those of the newlyweds for their ball opening, he calls for reinforcements. Smartphones light up the stands and the pit. A few cries of joy are heard at the top of the bleachers… Could this be a marriage proposal in the middle of a concert? It's possible.
Read also: Ed Sheeran dad for the second time
Rhythmic songs and ballads repeated in chorus follow one another. Night falls and "Shape of You" and "Bad Habits" arrive. The crowd jumps in rhythm. He could have ended up there, but Ed Sheeran surprisingly chose to end his show with the title "You Need Me, I Don't Need You", taken from his very first album "+". He runs faster, sings louder, strums his guitar frantically. End clap under fireworks. Ed Sheeran leaves the scene and immediately, his technicians get to work. It is necessary to prepare everything to start again on Saturday evening, the second date of the tour of the artist in France, before his departure for Denmark.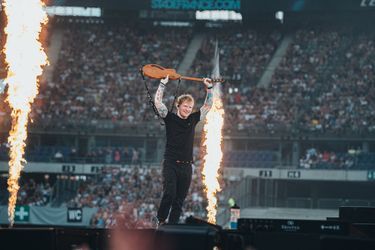 Set List du concert :
1. Tides
2. BLOW
3. I'm a Mess
4. Shivers
5. The A Team
6. Castle on the Hill
7. 2step
8. Don't / No Diggity
9. Lego House
10. Visiting Hours
11. Own It / PERU / Beautiful People / I Don't Care
12. Overpass Graffiti
13. Galway Girl
14. Thinking Out Loud
15. Love Yourself
16. Sing
17. Photograph
18. Perfect
19. Bloodstream
20. Afterglow
21. Shape of You
22. Bad Habits
23. You Need Me, I Don't Need You