M.C.

Updated
While her eldest Ilona is nursing, the other children of Estelle Lefébure found themselves in the South.
Passing through the south of France, Estelle Lefébure took to her Instagram account to share some photos of her summer near Marseille. The opportunity for the former model to reveal a rare photo of her children Emma and Giuliano (24 and 11 years old) to celebrate their sunny reunion. On the other hand, her eldest Ilona (27 years old) is missing, busy pampering…
Delighted to "see the sea" from the "Marvelous City", Estelle Lefébure is especially touched to see her children reunited. In Story, Emma Smet and her little brother appear from the back, in full brotherly hug. As usual, their mother takes care not to show the face of her boy, still a minor. If his daughters Ilona and Emma, ​​model and actress respectively, are particularly active on social networks, the young Giuliano is still growing up far from media attention.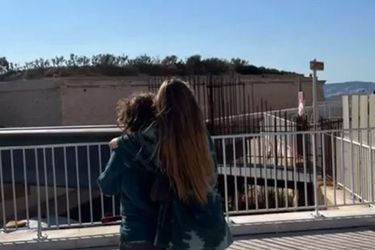 Estelle Lefébure shares her daughters with her ex-husband David Hallyday, from whom she has lived separated for more than 20 years. After a second marriage with the animator and producer Arthur, the ex-supermodel had found love in the arms of Pascal Ramette, owner of restaurants. The couple finally separated in 2014, four years after the birth of their son Giuliano.
See as well : Emma Smet, her emotional farewell to "Tomorrow belongs to us", her "second family"