After Saint-Tropez and the Cyclades, Laeticia Hallyday and her relatives arrived in the West Indies for their traditional summer vacation in Saint-Barth.
Like every year, Laeticia Hallyday spends most of her summer on her beloved island of Saint-Barthélemy, in the Caribbean. If her eldest Jade (17 years old) seems to have stayed in France, Johnny's widow is still well surrounded since her other daughter Joy (14 years old) and her companion Jalil Lespert are on the trip, as are the girls of this last, Gena and Kahina (18 and 11 years old).
On July 29, the actor and director took to his Instagram account to share some excerpts from their family stay in the West Indies. Thursday evening, Laeticia Hallyday, Jalil Lespert and their daughters were at the church in Lorient to attend the baptism of a young boy, Gabriel, the son of a close friend. The opportunity to see the immaculate summer outfit chosen by the widow of Taulier.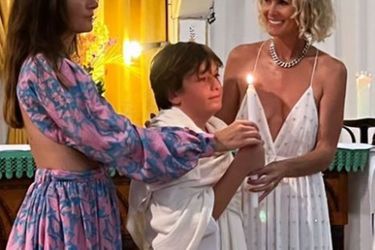 On the few photos relayed in Story, Laeticia Hallyday appears all smiles in her long, white bohemian dress. A sensual summer model with its plunging neckline and thin straps. Many other guests were in white, starting with Gena and Kahina, who also appear in a photo. As a reminder, Gena – and his brother Aliosha (14 years old) – are the children of Jalil Lespert and his ex-girlfriend Bérangère Allaux. Kahina was born out of her relationship with former Miss France Sonia Rolland, which ended in 2018.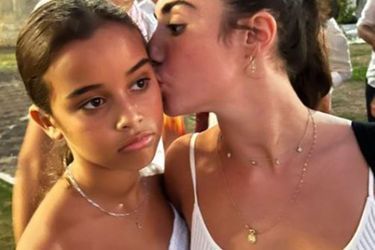 Next October, Laeticia Hallyday and Jalil Lespert will celebrate their two years of romance. Both live together in Los Angeles, with Jade, Joy and Aliosha. In an interview granted to Paris Match this same month, the 47-year-old widow confided in this new blended family life: "It takes time to get to know each other, to build a lasting relationship. Aliosha, Jalil's son, who is 13 like Joy, came back with us to Los Angeles to live the experience of a school year in America. It will be an important year for him (…). It creates a little anxiety, but we will get there because love saves everything and can move mountains.
See as well : Laeticia Hallyday and Jalil Lespert, romantic trip under the sun of Saint-Tropez