M.C.

Updated
In a few years, Vittoria and Luisa de Savoie have changed a lot. It is not their mother Clotilde Courau who will say the opposite.
One is 18, the other is about to celebrate her 16th birthday: this summer, Princesses Vittoria and Luisa of Savoy are enjoying a vacation with their feet in the water with their mother Clotilde Courau. On Wednesday July 27, the actress took to her Instagram account to share an excerpt from their stay at the sea. The opportunity for her to see how well her daughters have grown.
The wife of Prince Emmanuel-Philibert of Savoy first relayed a souvenir photo of holidays spent with his princesses, dating from "a few years ago". Then she revealed another photo taken recently: a snapshot in which Clotilde Courau appears all smiles, arm in arm with Vittoria and Luisa, during a day at the beach. If Princess Vittoria, future head of the House of Savoy after her father, regularly appears on her own Instagram account, Princess Luisa has only recently appeared on her mother's and sister's accounts.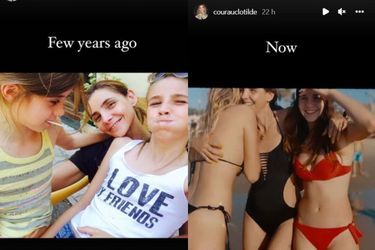 Last December already, when seeing her eldest blow out her eighteen candles, Clotilde Courau was nostalgic on Instagram. "The life that scrolls. The years at full speed. 18 years old already. One way or the other, as Bernanos says, we do not suffer the future we do it, "she first commented. "Always ready to make one…Always with your sister. Poetry is the prettiest nickname we give to life. Take that and go on your way (…). I will go to the end of the world, I will brave the bad winds to take you in my arms and tell you that I love you forever.
"Is love being together all the time?"
Mother and daughters live in Paris, while Emmanuel-Philibert de Savoie divides his time between France, Monaco and Los Angeles. This life as a couple between two continents, after 18 years of marriage, he mentioned it in January 2021 with Gala: "Does love mean being together all the time? Love, it's thinking about each other when we're far away, and being happy when we're together. Like all couples, we've gone through ups and downs. But we've managed to find listening and a real dialogue between us . Straight talk. With Clotilde, we tell each other everything."
Despite the distance, the prince closely follows the training of his eldest daughter, Princess Vittoria, who will succeed him as head of the royal house of Savoy in due course.
See as well : Clotilde Courau is 50 years old: her most beautiful appearances on the red carpet