It's a large part of the Sarkozy clan who embarked on a nine-day cruise. A first for the former president, who had never spent a vacation with his three boys and his daughter together. Conductor of this family getaway, Carla has only one wish: harmony around her man
Could she have only imagined it? Twenty years ago, Carla Bruni was preparing to release her first album, with the naivety of beginners. Would his songs find an echo? Were they going to seduce a restricted audience or invade the radios? She honestly didn't know. She, the former model, didn't have the card. The one that allows you to be taken seriously, to be received with kindness by the media "that matter".
Carla had therefore given her first interviews, strongly defended songs that told of her intimate loves, the flamboyance of passion and the desolation that follows. The 33-year-old young woman, who knew the power of attraction of a smile as of a body, revealed herself like never before. With disarming sincerity and charm. She was then in love with Raphaël Enthoven, the father of her son, Aurélien, whom she had just given birth to. Hosting Marianne Faithfull in her large apartment on Boulevard Saint-Germain, she received journalists, seated on her coffee table. When asked about the rest of her career, Carla replied: "I don't know what life has in store for me. And that's what makes it so exciting: this perpetual leap into the unknown. »
They face the judicial machine as if nothing had happened. Neither are the type to say 'it's not okay'
Twenty years later, we find her in paradise: on a boat sailing from island to island around the Peloponnese, accompanied by all her recomposed tribe and Nicolas Sarkozy, the man of her life (and independent director of the Lagardère group, owner of Paris Match). It was she who wanted to organize this trip all together: it is the first time since his meeting with the President of the Republic, in 2007, that he has gone on vacation with his four children. Twelve people flew to Athens on July 13, accompanied by two bodyguards seconded to the service of the former President of the Republic. Jean Sarkozy, his wife Jessica and their two children, Solal and Lola, Pierre Sarkozy and his companion, Louis Sarkozy and his fiancée Natali Husic, Giulia Bruni-Sarkozy accompanied by one of her friends, Nicolas Sarkozy and Carla Bruni have, since their arrived in Greece, embarked on a yacht rented for nine days and able to accommodate the whole smala. Heading first for the canal, then for the Gulf of Corinth, where each evening the ship docked on the mainland.
After a few days of cabotage, the tribe made a stopover on the island of Kefalonia before setting sail for Zakynthos. Far from the Cyclades and the tourist islands, the Sarkozys wanted studious vacations, divided between swimming for the lady and the children, and reading on the deck for the gentleman. At 67, the fiery former head of state had to do the unthinkable: leave his phone away from him. And enjoy his family as much as possible. Because, the year 2022 has not been the most serene for the former tenants of the Élysée, after two highly publicized trials in 2021, for which the former president was convicted and appealed. "During this entire legal period, Carla was his pillar, says a relative of the couple. She did everything to make her life easier, convinced that the judges were ready to do anything to get her anyway. »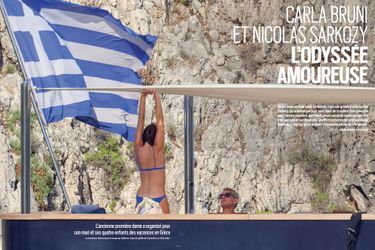 Officially retired from political life, Nicolas Sarkozy nevertheless followed the presidential campaign with avidity. Considering Valérie Pécresse beside the plate, he did not consider it useful to support her publicly – a feeling confirmed by the 4.78% obtained by the Republican candidate. In private, the former head of state considers Emmanuel Macron overwhelmed by events – the result of the legislative elections in support – and considers that he would do well to listen to him more. "Even if the political fight is behind him, he remains passionate about the destiny of France, supports a close friend of the ex-president. Currently undecided, he is not disappointed by Macron but unconvinced. He is aware that his next speech will be important. »
In politics, Carla does not get involved. She sees her husband addicted to phone calls with his former lieutenants and observes him watching the news channels, chaining political appointments as before. But, unlike François Hollande, Nicolas Sarkozy refuses most invitations to the media – believing that the words of a former President of the Republic should be rare and above all "useful". Because, basically, Carla Bruni and Nicolas Sarkozy are convinced of being confronted with a gaping injustice. "The judicial machine has let the poison of doubt settle around our lives, Carla told us last January. So he and I face each other. And to cope, we act as if nothing had happened. We don't talk about deadlines, they don't exist in our history. Each day has enough trouble of its. »
He resigned himself to the unthinkable: leaving his phone away from him
Carla knows that a man, no matter how powerful, can shake or waver overnight. Nicolas Sarkozy has the art of never retreating. On March 1, 2021, she was by his side to hear the court condemn him at first instance. As he was there, on January 26, 2022, for the last concert of his tour, at the Olympia. "You have to understand the meaning of their story through absolute love and boundless respective admiration, deciphers one of their relatives. They have been through incredible things and terrible ordeals together. And since neither he nor she are the type to say when things are going wrong, they make sure to always look good. A condemned Nicolas never stopped a Carla from singing. Quite the contrary. It's even in songs, sometimes, that she tells her pains and her colors – Carla recently wrote a piece called "Injustice", in which she tells her four truths to this universe which "wants to destroy them ". She hasn't decided yet if she will include it on her next album…
Music, it will be strongly discussed from the start of the school year: the singer begins to think of her seventh disc, which she would like to publish in 2023. The former head of state, he is tackling his next test . "When he writes, you shouldn't speak to him," she told us. It's a bit like having Zola at home…" After "Le temps des tempests" and "Promenades", Nicolas Sarkozy has just started writing volume 2 of his memoirs in Greece. "It did him good to be surrounded by his four children, continues this close friend of the couple. It had never happened to him before to spend so much time with all of them. And that, he knows, it was Carla who made it possible. Willingly modest, Nicolas Sarkozy is proud of the career of his three boys. Jean, after a brief political career in the Hauts-de-Seine, preferred to devote himself to his work as a lawyer with the firm Realyze – founded by Nicolas Sarkozy with Michel Leibovici and Arnaud Claude in 1987. He also teaches commercial law at Paris XII University. Pierre continues to produce music in the world of hip-hop. Which allows his father to tell him all the bad things he thinks of rappers… As for Louis Sarkozy, he is preparing his marriage with Natali. Cécilia and Nicolas' son is due to wed next October.
And then there is Giulia. The 10-year-old girl, a dapper blonde, is her parents' ray of sunshine. Posed, "she is the opposite of the shady temperament of her father", we smile in the entourage of the couple. "She never gets angry and would even tend to soften it. He only needs to see her to feel a father's pride in his daughter. »
Recently, Carla was approached by the Gims teams to participate in the rapper's next album.
It was with her that the Sarkozys returned to their Parisian home on July 22. If Carla would have loved to go see the Rolling Stones, who were performing at the Longchamp racecourse on Saturday 23, she gave it up, out of love. She didn't want to drag Nicolas into this kind of event. Aurélien loved it. From the 25th, the Sarkozys left for the island of Formentera, in Spain. With their friend Christian Clavier, this time, while waiting to reach Cap Nègre, from August 1, and the Bruni-Tedeschi family estate. "Nicolas loves the place. He can ride a bike in the morning, people leave him alone, offer him a glass of water, while Carla remakes the world with her friends. "They will pass a head at the Ramatuelle festival, either for the piece "Le vertige de Marilyn", carried by Isabelle Adjani, or for the concert of Calogero – with whom Carla has already worked – scheduled for August 12.
Chase the natural, it comes back at the end of the guitar neck… Carla composes, for herself as for the others. Recently, she was approached by the Gims teams to participate in the rapper's next album. She also re-signed with Barclay, one of Universal's record labels. And if she sings willingly at private events, she hopes to be able to embark on a real concert tour in France – the last having been scuttled by the health crisis.
Always sought after by luxury brands, such as Balenciaga or Bulgari, Carla Bruni adores, at 54, returning for a while to the podiums of her former life and her top model friends of the time. She is the only one to have known how to invent a new life, after having experienced love on a roller coaster. She admits to herself surprised at the lightness in which she now lives – even if she pulls out her claws as soon as you get a little too close to "her man". This "little cheetah" that only she knows how to "coax by giving him something to dream about", as she sang in her last album.
Gone are the days of doubts and questions. From now on, Carla Bruni assumes. Watchtower of a shaken but solid family, she is also the rock of a man who knows that, in life and in death, he can count on her. And that is the best of their victories.
Find the exclusive photos of Carla and Nicolas Sarkozy in our magazine and in the digital edition