Joy Hallyday celebrated her 14th birthday this Wednesday. The teenager posted a snapshot of her and her father, Johnny.
Joy Hallyday celebrated her fourteenth birthday this Wednesday. For the occasion, the teenager had a tender thought for her father, Johnny Hallyday, who died in December 2017. She published in Instagram "story" a snapshot of her, blowing out her candles surrounded by her parents and her grandmother. sister, Jade. The latter has also shared on his account of sweet words for Joy. "We shared so many magical moments. I am so grateful to have a sister like you, to share the good times and the bad," she wrote before continuing: "Thank you for always being by my side. I am so lucky to have such an amazing sister and best friend. I will forever be there for you, I can't imagine life without you. Thank you for everything you have done for me. I love you my sister". Several photos of the duo follow their message.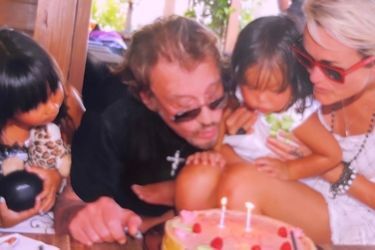 On June 15, the birthday of the French rockstar, Joy Hallyday had dedicated a publication to her dad. "I miss your humor, your jokes, your generosity, your voice, your songs that you sang to me, and the love you had for mom, Jade and me. Every day I listen to your songs and I think of the most cherished times we spent together in your office watching movies, making jokes and laughing all 4 with mom and Jade. I hope you are well up there and that you are having a good laugh, "she wrote. "Forever my angel," commented his mother, Laeticia Hallyday.