M.C.

Updated
The atmosphere is visibly relaxed on the set of the comedy "Life for real", with Dany Boon, Kad Merad and Charlotte Gainsbourg.
The shooting of Dany Boon's next film continues in Paris. Tuesday, July 26, the director and actor was well surrounded to make new takes in the capital. His sidekick and friend Kad Merad was there, as was Charlotte Gainsbourg, also starring in this new comedy called "Life for Real".
The film crew settled around the Pure café, in the 11th arrondissement. On Instagram, Charlotte Gainsbourg relayed several photos and videos of this day of filming which took place in a good mood. In Story, Dany Boon and Kad Merad appear as they improvise a duet on the "Old scoundrels", surrounded by musicians. "My colleagues, I love them so much!" she commented enthusiastically. A sequence also relayed by the host Julia Vignali, the companion of Kad Merad, who visibly visited his half on the set.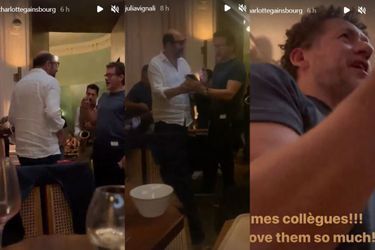 See as well : Charlotte Gainsbourg and Yvan Attal, family birthday in the middle of the desert
"Life for Real" will be the fourth feature film bringing together Dany Boon and Kad Merad. Filming began last May. According to information from the "Film Français", it must continue between France, Italy and Belgium. In this comedy, Dany Boon plays a certain Tridan Lagache, who was born and lived all his life in a Club Med in Mexico. At 50, he decides to leave his lifelong environment for the first time to find Violette, his childhood sweetheart, and discover life for real. In Paris, he is far from imagining the obstacles and perils that await him in his quest for truth and happiness, including the unexpected meeting of Louis, his older half-brother, whom he did not know and who will do anything to get rid of him. The theatrical release is scheduled for spring 2023.
Read also: Dany Boon Duped by an Irish "Lord", millions of euros stolen