Mocked by many Internet users after her appearance in "Who can beat us?", Hélène Ségara spoke directly to her detractors.
This is too much for Hélène Ségara. The singer was the laughingstock of Internet users following her participation in "Who can beat us?", broadcast on Monday on M6. His detractors attacked his physique, accusing him of having "missed his cosmetic surgery". Transformations which are in reality the direct consequence of his eye disease: the 51-year-old artist suffers from irreversible macular degeneration.
"Obviously, and as I expected, the comments towards me on social networks are gratuitous and mean," she wrote in "story" Instagram. "It's true that a year of heavy treatment has changed me and given me a lot of complexes. Unfortunately, I can't help it. Apart from fighting to keep smiling … Thank you to all those who know and come to defend me", concluded the interpreter of "Love is a sun".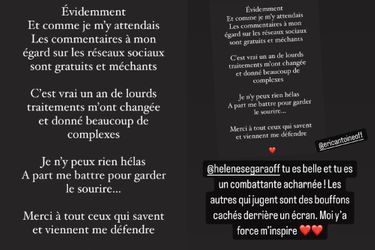 In images, in pictures : Hélène Ségara, her first meeting with Match
Following its publication, Hélène Ségara received an avalanche of support, in particular from comedian Jarry. "You are beautiful and you are a fierce fighter! The others who judge are buffoons hidden behind a screen. Me, your strength inspires me", he declared to the singer who said she was "so touched" by these words.