Interview by Françoise Smadja

Updated
Nathalie and Cathy, her two close friends, accompanied Charlotte Valandrey to the end and talk to us between laughter and tears.
Nathalie, long vine with light brown hair, five years her junior, mother of two children, met Charlotte in her hometown of Pléneuf-Val-André about thirty years ago. "I was 18 when I met his intense blue gaze for the first time on the sand of Val-André, she recalls. I couldn't understand why such a pretty girl didn't have a boyfriend. One summer evening, at sunset, Charlotte told me her terrible secret, her HIV status. She was a very honest woman. With the boys, if one of them pleased her, she would spontaneously reveal her illness to him. But that one word was enough to scare them away. I understood how vital love was for my friend. It was his meeting with Arthur Lecaisne, and above all the birth of his daughter, Tara, who is now 22 years old, which filled this gap. Tara was the miracle of her life, her sunshine, her reason for being. She is strong, fragile and courageous like her mother. She did not leave her mother for the duration of her hospitalization.
Read also: Yann Moix tells Charlotte Valandrey: "She's the sister I should have had"
This day of June 13, when her doctor told her that her graft had finally arrived, Charlotte was beautiful, happy and euphoric. The next day, the day of his operation, and before he left for the operating room, we phoned around 5:30 in the morning. She asks me to send her this famous photo of poppies that I had made and that she loved so much, to share with her subscribers. Then it all came together very quickly. His family contacted his friends on July 12 to say goodbye. I kiss him and whisper to him that it's me, Nath, that I love him. I was there for her, she was there for me.
"

Waiting a year, for Charlotte it was a century

"
Cathy, meanwhile, was a fan of the actress. Then their relationship turned into a friendship. Mother of three children, she lives in Annecy and runs a bed and breakfast. This tall brunette with a strong character has never "let go". "During and after confinement, our relationship had grown stronger. She had even embarked on the creation of trees of life to escape. We talked until 2 or 3 in the morning to cheer him up. Because she was bad. She had stopped "Tomorrow belongs to us". She suffered a lot. She kept telling me: "But what am I going to do?" Even her album, of which she was very proud, was not ultimately successful… Her duet with Marc Lavoine went unnoticed. She was desperate. She had just released "Reconcile with yourself", her latest book. She was in contact to do "Low the masks" in 2023.
To wait a year, for Charlotte, it was a century. In 2021, she was not doing very well. We had rented a cottage with Fabienne and Béa to take her mind off things. We were cycling, we were dancing. But since the end of the series, concerts, theater, she thought only of returning to the cinema. However, even the cinema no longer wanted her. It was violent… They preferred younger, thinner actresses. Charlotte did not accept her body deformed by the drugs. She had taken belly. She felt bad about herself and that weakened her even more. Her fans supported her, gave her gifts. And the day she received her transplant, she wanted to thank them so much…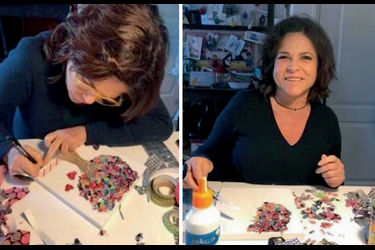 We attended a show in February 2022 and we caught the Covid. Charlotte was fragile, coughing, out of breath after 100 meters. I was very worried. She went to the emergency room. She hadn't planned anything for Christmas that year. I got him a train ticket to spend the holidays with his father, at Le Val. Her dad sings in the church choir. She was happy to see him like this. In March, I take him to Orléans to attend Julien Doré's concert. She was exhausted. And in the evening, before going to sleep, she whispers to me: "If I ever have a heart attack tonight, I won't feel it."
"

She had told her dad, her sister, her daughter that she did not want therapeutic relentlessness if the transplant did not take

"
In May, she spends a few days with her father. The day before, she calls us, with Fabienne, and tells us: "I really don't feel well. I will have a big suitcase. Cathy, can you pick me up in Paris and we'll go straight to the emergency room?" I return to Annecy on May 15, she calls me back with Tara, who must take her again to the emergency room. And shortly after, she contracts staphylococcus aureus on her arm, which is operated on. One day, she said to me: "I'm not afraid of the transplant, but of the aftermath. If I die during the operation, I die." I reassure her, I kiss her on the forehead, the hair, the cheek, and I tell her: "I love you. Hold on." She knew she could count on me, until the end. She was so scared! I had made her the promise to take her to London for her 54th birthday, because she didn't know this city.
On June 24, her family allowed me to go see her, just after her transplant. A shock for me! She was intubated, her eyes were awake and she was looking at me. She didn't recognize me and said, "I don't want to be hooked up. I wish my heart would just pick up again." With the doctors' permission, I put "We", by Julien Doré, then Clara Luciani. She was shaking her head, as if she wanted to dance, as if she wanted to sing. I was upset.
On July 12, Paule, the intermediary between her family and her friends, called me and told me that her father, her daughter, Tara, and her sister, Aude, allowed us, with Fabienne, to go and tell her at see again. She was sleeping. Very pale, so frail. We spoke to her, we told her that we loved her very much, stroking her gently, reminding her of our happy memories together. She had told her dad, her sister, her daughter that she didn't want aggressive therapy if the transplant didn't work. She could join her mother, in heaven."