American singer and actress Shonka Dukureh was found dead Thursday in her Nashville apartment. She was 44 years old.
This Thursday, American actress and singer Shonka Dukureh, 44, was found dead in her Nashville apartment, which she occupied with her two children. Warned by one of them, his neighbors tried to help him before the police arrived, in vain. Law enforcement said an autopsy was in progress and "nothing indicated foul play."
BREAKING: No foul play is evident in today's death of actress Shonka Dukureh, 44, who portrayed Big Mama Thornton in this year's Elvis movie. Dukureh, a Fisk Univ graduate, was found dead in the bedroom of her Kothe Way apt that she shared with her 2 young children.

— Metro Nashville PD (@MNPDNashville) July 21, 2022
His sudden death comes just a month after the release of "Elvis," the Elvis Presley biopic, directed by Baz Luhrmann, in which Shonkah Dukureh played 1950s blues star Big Mama Thornton. only screen role of the late singer.
"I feel blessed to have spent time with her"
The Australian filmmaker wanted to pay tribute to him. "A light went out today and the entire 'Elvis' movie family is heartbroken at the loss of Shonka Dukureh. From the moment she arrived in our world, Shonka brought joy, spirit and of course her voice and her music. Every time she was on set, on stage, or even just in the room, everyone always felt uplifted," the 'The Great Gatsby' director wrote.
"Shonka was just beginning to find a wider audience for her immense talent, and I got to see her lift huge crowds at Coachella. [un festival de musique, ndlr] and beyond. One of Shonka's favorite words, which she used daily, was "blessings," and I, along with the entire "Elvis" cast, crew, and musical collaborators, feel truly blessed to spending time with her. We send all our love and support to Shonka's children and family."
To read : The photos of the biopic "Elvis" commented by the director Baz Luhrmann
Shonka Dukureh had also collaborated with Doja Cat for the recording of the film's soundtrack. She also appeared in the clip for "Vegas" alongside the American rapper. The latter, who had invited her to perform on the Coachella stage, expressed herself in Instagram "story" following this sudden disappearance.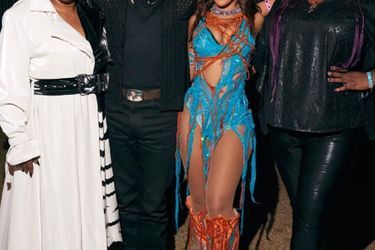 "Rest in peace Shonka – an incredible talent that was taken from us too soon. What a real honor it was to know her, and I'm so grateful to her for lending her amazing voice to 'Vegas'. His wonderful performance in 'Elvis', along with the rest of his art, will live on. My deepest condolences go out to his loved ones," she wrote.