Spritz, pasta fresca and dolce vita. For the past few days, Brooklyn Beckham and Nicola Peltz have been taking it easy in the streets of Portofino. The newlyweds were photographed strutting around the narrow streets of this welcoming Italian town on Monday. For their honeymoon, the couple stays on a magnificent boat and tastes delicious dishes concocted by the young chef Jules Baronchelli. The lovebirds, all dressed in white, were seen in the middle of a shopping session and did some shopping at Emilio Pucci.
The eldest son of David and Victoria Beckham posted some snippets of his stay on his Instagram account. "Wine tasting with my wife," he wrote in one of the snaps. Photos of pasta intertwine with a family photo, published this Tuesday on the occasion of the forty-seventh birthday of his father.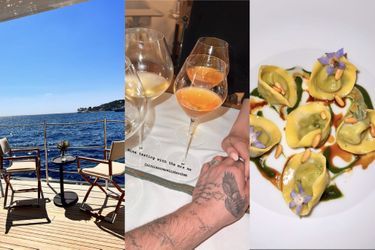 This is the second leg of their vacation. A few days earlier, Brooklyn Beckham and Nicola Peltz were seen having dinner on the terrace of the Sénéquier restaurant, in Saint-Tropez, peacefully enjoying the charms of the Côte d'Azur.
The two celebrities sealed their love in mid-April at a lavish ceremony in Miami watched by Eva Longoria, the Williams sisters and Gordon Ramsay.