For the last day of the Monte-Carlo Television Festival, Vahina Giocante was alongside her companion, François Chopard.
On Tuesday June 21, the 61st Monte-Carlo Television Festival came to an end. And for the closing ceremony, Vahina Giocante was there. First alongside her son Nino Gamet (20) on Saturday June 18, the French actress was this time on the arm of her companion, François Chopard. Very complicit and with a wide smile on their lips, the couple walked the blue carpet arm in arm, before attending the presentation of the Golden Nymphs.
For the occasion, the actress opted for a long red dress with a pretty neckline, accessorized with a golden belt, large earrings. For his part, the entrepreneur in aeronautics wore an elegant suit and a bow tie. Under the lenses of the photographers, the couple, very affectionate, indulged in a few kisses. Present at the Festival to present the series "The Reunion", adapted from the novel "La Jeune Fille et la Nuit" (bestseller by Guillaume Musso), Vahina Giocante also found her comrades Grégory Fitoussi, Sydney Gallonde, Ioan Gruffudd and director Bill Eagles. An international cast for a series filmed last year and which will be broadcast on France 2 soon.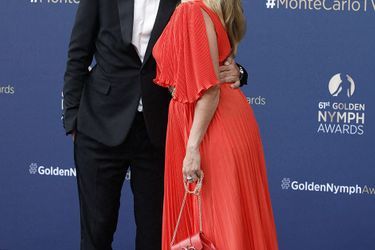 "You are my rock"
Together for more than a year, Vahina Giocante and François Chopard live from very different professions. She has played in many French productions such as "99 francs", "Le Premier Cercle" or "Lila dit ça". Films in which she was able to cross paths with Jean Reno, Gérard Depardieu, as well as Vincent Perez. He got his pilot's license in the US Air Force. He is also at the head of Starburst, a company whose goal is to help start-ups in aeronautics and aerospace to win contracts with major players in the sector. Opposite backgrounds that do not prevent them from living a beautiful love story.
Also in pictures: Jean Reno and his wife Zofia, the couple reappears at the Monte Carlo Television Festival
From June 9 to 13, 2021, on the occasion of the Cabourg Film Festival, the couple had already offered a romantic cinema getaway. The actress had also taken the opportunity to make a beautiful statement to her "Great Love". "François Chopard, you are my rock, my anchor, my sacred mountain, you are my beacon in the night, my sun and my king. I am Yours," she wrote on her Instagram account.