Marine Corviole

Updated
Every year, Mélissa Theuriau travels to Morocco to support her husband Jamel Debbouze and his Marrakech du Rire.
From June 15 to 18, the 10th Marrakech du Rire was held. An anniversary edition for which Jamel Debbouze was able to count on the presence of many comedian and comedian friends. Behind the scenes, his wife Mélissa Theuriau was also there, as always. The couple, now married for 14 years, has also displayed their lovely complicity in the face of photographers.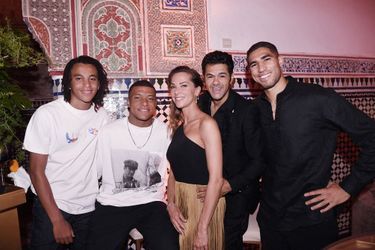 Last Saturday, during the evening organized after the grand gala for the 10th anniversary of Marrakech du Rire, Jamel Debbouze and Mélissa Theuriau appeared hand in hand around their guests. The parents of Léon and Lila (13 and 10 years old) notably enjoyed the evening in the company of Kylian Mbappé and his brother Ethan, or even footballer Achraf Hakimi. It must be said that the comedian and the journalist are regulars at the Parc des Princes since their son, a football enthusiast, is following a sports studies course at PSG.
See as well : Jamel Debbouze and Mélissa Theuriau, tender kiss and luxury trip for their 14 years of marriage
Kev Adams, Jarry, François-Xavier Demaison, Alice Belaïdi, Jeff Panacloc, Eddie Semoun… The evening brought together many personalities. Also on the Badi Palace stage, spectators were able to find many comedians: Ahmed Sylla, Nawell Madani, Paul Mirabel, Waly Dia, Camille Lellouche and his round belly… "Marrakech, I liked it", summed up Jamel Debbouze , creator of this festival that has become a must.