M.C.

Updated
Sunday, Gaëlle Pietri and her son Orso not only spent their first Father's Day without Gaspard Ulliel, but also commemorated the five months of his death.
On January 19, Gaspard Ulliel disappeared after a terrible skiing accident at just 37 years old. Since then, his son Orso (born in 2016) and his mother Gaëlle Pietri have been mourning out of sight. Despite everything, the Corsican model came out of her reserve on Sunday June 19, the time for a simple tribute relayed in Story Instagram.
"5 months. You are sorely missed, "wrote Gaëlle Pietri, in the caption of a black and white photo on which Gaspard Ulliel appears with their little boy. A snapshot that she had already relayed on the social network in March 2020.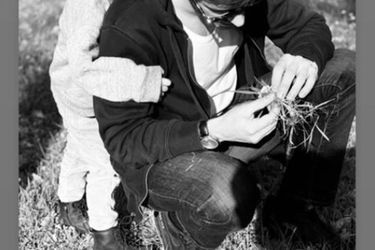 Last May, still on Instagram, Gaëlle Pietri came out of silence to return to the disappearance of the actor, who had shared his life between 2013 and 2020. "The event of his departure affected us in a direct and individual way without us we were able to have the time for a preparation or even an organization, she wrote in particular. During these painful moments, we all did our best to honor the presence of each and everyone around their remains. As a reminder, the funeral of Gaspard Ulliel was held on January 27 in Paris, in the presence of many personalities upset by this sudden disappearance. The actor was then cremated and buried in the Père-Lachaise cemetery.
Gaëlle Pietri also seems to have responded to rumors evoking a possible romance between the father of her son and the Luxembourg actress Vicky Krieps, following the filming of the film "More than ever". "No one shared Gaspard's life at the time of the tragedy. It is therefore incumbent on us with Gaspard's parents to protect his memory as well as the future of Orso. I respect the dignity of the beings who, near or far, met and accompanied Gaspard during his life (…). I am happy that the film "More than Ever" is in selection at the Cannes Film Festival. I am also happy that Gaspard and Vicky Krieps supported each other on this shoot.
See as well : Gaspard Ulliel, a first photo of his ultimate film with Vicky Krieps unveiled
The drama "More than ever", the actor's latest film, was presented at the last Cannes Film Festival in the "Un Certain Regard" category.