L.T

Updated
In a video posted on YouTube, Shiloh Jolie-Pitt set the dance floor on fire at the Milenium Dance Complex studio.
Two rooms, two atmospheres, that's the least we can say. While Brad Pitt and his ex-wife Angelina Jolie are waging a new legal war, their daughter Shiloh (16), she is living her passion to the full: dancing. Sunday, June 12, the teenager ignited the Web after appearing in a new YouTube video, filmed from the Millenium Dance Complex in Los Angeles, California.
In this dance video by British choreographer Hamilton Evans, Shiloh Jolie-Pitt, surrounded by her two comrades, dances hip-hop to "Vegas", the title of Doja Cat recorded for the soundtrack of the film "Elvis". Dressed in a t-shirt bearing the image of the group The Beatles and a pair of vans, the young girl sways and takes steps like a professional. At only 16 years old, Shiloh already has the rhythm in his skin.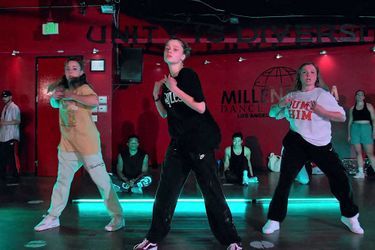 "His parents are very proud"
This is not the first time that Internet users have discovered his artistic performances. On her Tiktok account, the teenager had already left Internet users speechless by dancing to "About Damn Time" by Lizzo, or even to "Shivers" by Ed Sheeran. A talent that makes his parents "very proud". "They have no problem with her being able to make it her profession, but they are absolutely not pushing her to do it either. Shiloh loves to dance, she is extremely talented and has taken a lot of lessons over the past few years," a source told "US Weekly on June 8. At least one thing the ex-spouses are on the same page about.
See also: When Roselyne Bachelot meets Brad Pitt in the aisles of a Parisian museum
Friday, June 3, Brad Pitt once again filed a complaint against the mother of his six children, accusing her of having intentionally sought to "harm him by selling his shares" of the Miraval estate, a wine estate they acquired in 2008. An accusation that Angelina Jolie did not like. A few days later, through a spokesperson, the actress reacted strongly denouncing "lies" and "a false story".
Read also : Chronicle "C'est la vie" – Angelina Jolie: twisted blows