The defamation lawsuit between Johnny Depp and his ex-wife Amber Heard is coming to an end. The verdict was delivered on Wednesday evening in Fairfax court.
After long weeks of arm wrestling, the verdict finally fell on Wednesday, June 1: the jury of the court in Fairfax, Virginia, declared Amber Heard guilty of defamation against her ex-husband Johnny Depp. The jury awarded the actress $15 million in damages.
Amber Heard still got a slim victory since the jury found that Johnny Depp had also defamed her, after statements by his lawyer in the "Daily Mail". She will therefore receive 2 million dollars in damages.
As a reminder, Johnny Depp sued his ex-wife for defamation following a column published in December 2018 in the "Washington Post", in which she said she had been the victim of domestic violence, without naming her ex-husband. . The 'Pirates of the Caribbean' star had sought $50 million in damages, saying the article seriously damaged his career and reputation. Amber Heard then counter-attacked and demanded 100 million dollars.
Read also: Johnny Depp vs Amber Heard trial: summary of their setbacks in 5 highlights
After six weeks of proceedings broadcast live on American television, the seven jurors – five men and two women – began their deliberations last Friday.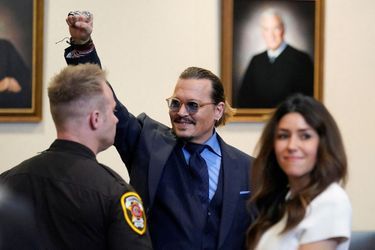 The ex-spouses had already opposed the court in the summer of 2020 in London, in the defamation lawsuit opposing Johnny Depp to the English tabloid "The Sun". The newspaper then called Amber Heard as a witness to defend an article qualifying the actor as a violent husband. Lawsuit that the actor had lost.
See as well : Johnny Depp and Amber Heard, Diana and Charles… The most chaotic celebrity divorces
The two stars have been separated for six years now, after being married for less than a year. A relationship began in 2011, on the set of the film "Rum Express", a year before the separation of Johnny Depp and Vanessa Paradis. Barely the marriage celebrated, Amber Heard filed for divorce, accusing her husband of verbal and physical violence under the influence of drugs and alcohol.
On video, the time of the verdict