The president of the United States, Joe Biden, has requested the approval of his country's congress for a package of humanitarian, economic and arms aid to Ukraine valued at $33 billion, an amount that for some countries represents their total defense budget. In fact, the former US ambassador to Russia, Michael McFaul, points out what that package is more than half of what Russia had in its national budget to spend on its military in 2021, which was $65.9 billion.
Suicide drones, missiles, deployed US operatives who teach Ukrainian troops and replacements to use weapons that are too new for them… Ukraine is supported by NATO, by the United States, but it continues to fight 'alone', it is still its army against the Russian – which is why this conflict has not yet escalated into World War III. And therefore, in many areas of the country, the Ukrainian army must take advantage of everything at hand, including the enemy's arsenal.
Russian missiles against Russia
It is April 30, and the conflict in Ukraine enters its 66th day since Russia invaded the country. But let's go back a month, to March 21, and see how the situation of the Ukrainian fighters in terms of armament and arsenals, which will also give us an insight into the Soviet armament. Yes, Soviet because it literally comes from that era according to this CNN field piece.
In kyiv a month ago, the Ukrainian army fired missiles in rapid succession, targeting Moscow as the main target. Those missiles were precisely Russian. Missiles that according to Yuri Golodov, the deputy commander of one of the Territorial Forces of Ukraine and a retired sailor in the Ukrainian Navy, "we captured them intact, handed them over to the Armed Forces of Ukraine at night, and now the Ukrainian army has returned the missiles to them.". 24 Uragan missiles captured from the Russians who were going to launch them precisely against the Ukrainian people, and that that morning they flew towards the Russian people.
Golodov, 59, is an expert in the "rreused from military equipment abandoned by the Russian army, or captured from it", and leads a team working in a military junkyard at an undisclosed location in kyiv according to CNN, repairing and repainting Russian military equipment for use by Ukrainian forces. And it is that "everything we took from the Russian army, we transferred to the Ukrainian armed forces."
Battle tanks converted into ambulances
Whether in the form of tracked tanks or 6-8 wheeled tankettes, artillery troop support vehicles are equipped with different types and calibers of light and heavy weapons, the same ones that have fired on cities and the Ukrainian civilian population. In a kyiv scrap yard, the country's forces take advantage of tanks and armored cars stolen from the enemy, painting the flag of Ukraine on top of the Russian military symbols.
Golodov told CNN a month ago how these Russian vehicles were being disassembled to be sent back to the front, but for another purpose: eInstead of loading them with weapons, "we are going to use it to transport the wounded. It is a very suitable off-road vehicle. It can tackle any swamp or snow."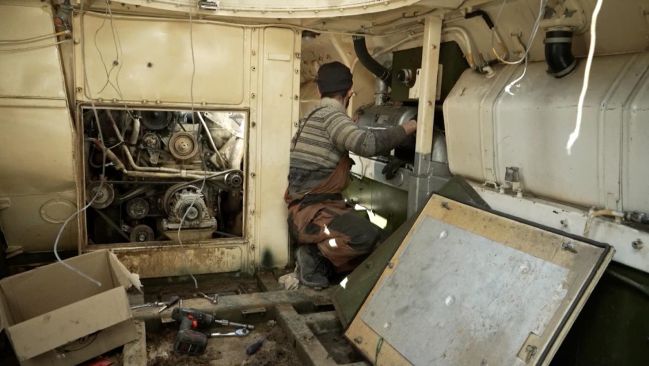 Cold War Memories
The Union of Soviet Socialist Republics or USSR was a communist state spread across Eurasia that brought together 15 national republics and lasted from 1922 to 1991. And much of the equipment used by the Russian military in the Ukraine campaign is similar or the same as that used by Ukrainian soldiers, so they are familiar with how it works and have no trouble learning how to master captured, stolen or found Russian war material. .
But the most curious thing is that much of this military arsenal of the Russian army re-used by the Ukrainians is not exactly new. In fact "Goes back to the Soviet Union"says Golodov, which means that even if its manufacture dates back to the last year of the Soviet era, it is material – weapons, ammunition, vehicles – at least 30 years old.
Although we are also talking about a time when 'planned obsolescence' did not exist, and things were made to last as long as possible, so everything Golodov's unit has been found / captured "It's pretty reliable. Everything is in working order. It looks like ancient weaponry, but in reality, if used correctly, it will serve us for a long time."
behind enemy lines
Golodov says that his battalion is also responsible for capturing some of the equipment on the battlefield: "We are a deep reconnaissance special forces battalion working behind enemy lines. Our task is to destroy the supply of the Russian army: ammunition, fuel and food."
And therefore, that scrap is full of old Russian army fuel trucks, armored vehicles and others who, though old, rusty, heavy Soviet-era machinery, are ready to be reassigned to missions against their original drivers. Golodov explained to CNN how they got hold of some of the vehicles, like one of the fuel trucks: "We fired on the first vehicle of a Russian column. And when it exploded, the column stopped," he says. "(The Russian soldiers) fled and we took their military equipment."
According to Golodov, who spent time with the Soviet Union's Northern Fleet in Mursmansk, northwestern Russia, before retiring from the navy, and says he knows what Russian forces are capable of., this is common on the battlefield: "Russian soldiers are scared, demoralized. They are afraid to separate, because they are being shot at from all the bushes. They are very young and inexperienced. Most of them don't know or understand why they are here."
"The strength of the Russian army is nothing more than a myth. How can anyone think otherwise?"
Poseidon, Russia's most feared weapon capable of creating 500 meter radioactive waves
The Javelin, the star weapon of the Ukrainian war and that they worship as a Saint
Anonymous hacks the Russian Central Bank and will reveal "secret agreements" in 48 hours
Russians are downloading Wikipedia at full speed: Russia wants to ban it
Kamikaze Switchblade drones, missiles and anti-tank missiles: US weapons to help Ukraine
Kalashnikov KUB, the suicide drones used by the Russian army in Ukraine
Spain is preparing for a war in cyberspace: Russian cybercriminals
What is the Doomsday Plane and why is it operational these days
How the Tinder app served to find refuge for Ukrainian exiles
Bombing alerts and maps: the most downloaded apps in the Ukraine war
Microsoft neutralized a Russian cyberattack that intended to leave the entire Ukraine without electricity
Apple and Google restrictions for iPhone and Android in Russia and Ukraine
What is a VPN network and why its use has skyrocketed in Russia these days
Ukrainians track the position of Russian troops thanks to Apple AirPods
IT Army, the cyber-army of hackers of the Ukrainian government summoned by Telegram
Hacking accounts of Ukrainian soldiers to demoralize them: the Russian tactic