WhatsApp is the favorite app for users to send text messages, audios and make video calls. It is true that it has strong competition in the market, but in Meta they try by all means to keep the users who trust the service. But some may lack options like having WhatsApp on two devices with the same number and if you are one of them we are going to tell you how it is done.
Is it possible to use the same WhatsApp number on two devices?
The question seems a bit implausible, especially considering that WhatsApp associates your number with your account. In fact, if the application detects that you are installing your account on another device, it notifies you to migrate the data from one terminal to another. This is a way for the app to tell you that you have to decide where you are going to use the app, or at least the account you want to associate.
However, there is a way that you don't even need to install any apps to achieve your goal. The simplest solution is none other than to go through the web browser on duty where you want to use WhatsApp Web. Yes, this feature is also active on mobile devices, which allows you to take another account with you whenever you scan the QR code with the account to link.
If you remember, the procedure is exactly the same as the one we used to use WhatsApp on iPad without hacking it. In just a few simple steps you will have access to all your conversations wherever you go and, furthermore, on two different devices, whether they are tablets, smartphones or computers. Remember that on the first two devices you will need to activate the desktop version of the browser to access the page.
Once you have completed the connection step, you can anchor the tab where you have the app running at the start.
If you have WhatsApp Business there is no problem
One of the things you should know if you run a business is that using WhatsApp on multiple devices is possible if you use WhatsApp Business. The business version of the application allows up to four devices to have access to the company's WhatsApp if needed. Just pair your phones and start answering customer questions or fulfilling incoming orders.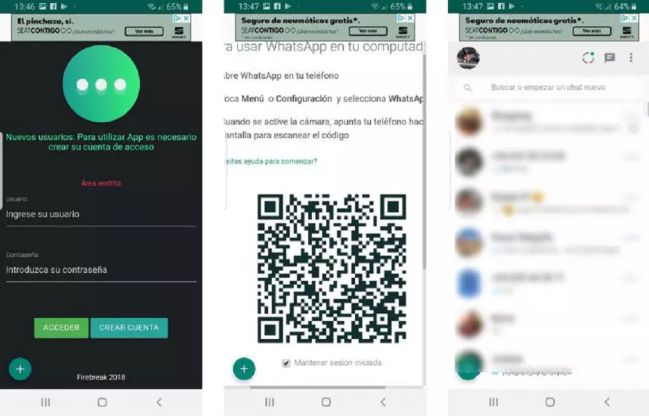 How to clone the WhatsApp app on the mobile?
This option may be useful if you want to clone WhatsApp to use it on two devices with the same number, but there is also another option. This It consists of cloning the WhatsApp app on the mobile. The feature is available on some Android devices, so you can use the app twice.
But if yours doesn't have it, don't worry. There are applications that will help you, such as WhatsClonewhich is an external app that has a very similar function to that of WhatsApp Web that puts it directly in another application.