You feel the call of nature. And obviously you go. And you do it by taking your smartphone with you, a practice that more than half of the world's population and almost the entire Spanish population share with you, according to a NordVPN survey.
Go to the bathroom with the mobile
Do we really need the mobile to go to the bathroom? The cybersecurity company Nord Security has raised this question and has launched a global survey to answer it. And it turns out thatYes, people need their cell phones to go to the toilet. In fact, 65% of all respondents do. Let's look at it at the country level:
Spain, the country that uses the mobile phone the most in the bathroom
Almost 80% of those surveyed in Spain said that they use the phone in the toilet
42% admitted that they do it often
12% said they only do it sometimes.
Germany, the one that least uses the mobile in the bathroom
Only 54% of those surveyed use their smartphone in the bathroom
Around 37% of Germans said they never use it
Approximately 9% do not have a smartphone.
Of all the countries surveyed, toilet phone use was more common among millennials (26-41 years old). Generation Z (18-25 years old) ranks second.
Playing games in the toilet
Checking social media (53.4% ​​of all participants) on the toilet is by far the most popular activity. It is the most common in Spain (64.8% of those surveyed) and in the United Kingdom (61.6% of those surveyed).
The use of social networks is less popular among Lithuanians (37.3% of respondents), who prefer to spend their time reading or listening to the news (44.7% of respondents).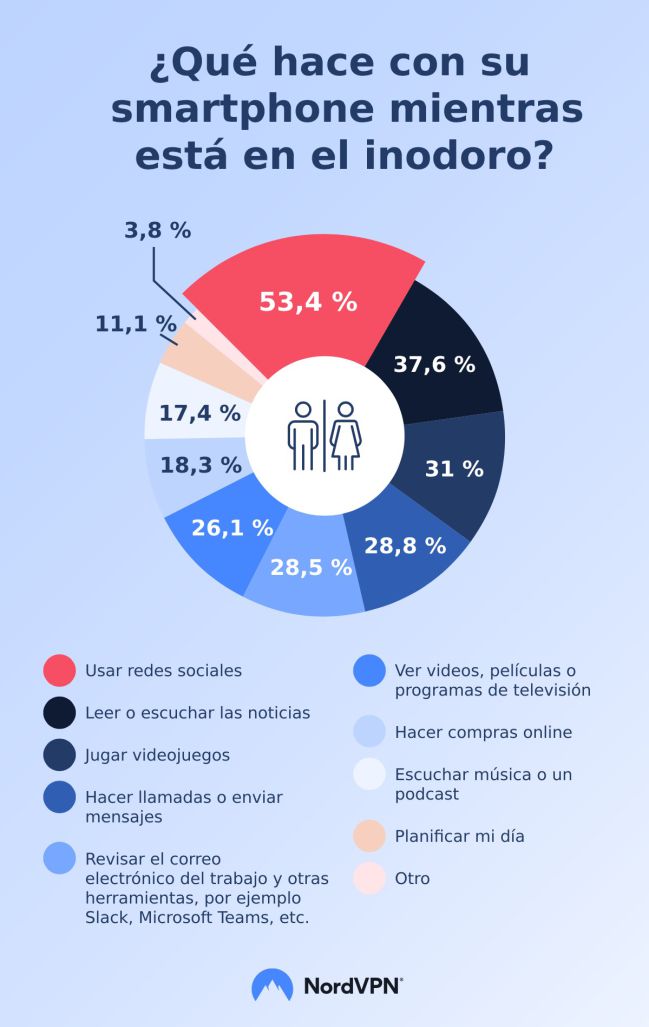 Canada, for its part, is the country that loves video games the most. Almost 40% of those surveyed admit that they spend their time playing in the bathroom.
"I dropped my mobile in the toilet"
In the United States they tend to be more clumsy: 20.4% of those surveyed admitted to having dropped their phone in the toilet at some time. Second place goes to the Netherlands: 16.9% of respondents have dropped their phone in the toilet at some time.
Lithuanians are the least likely to drop their phone: only 10.2% of respondents admitted to having had this type of incident. And Germans are also unlikely to drop their phone: it had only happened to 11.9%.