Just a week ago we told you about the Kalashnikov KUB, the suicide drones manufactured by the mythical Russian arms company and that Russia had deployed in Ukraine in its war offensive. These are drones designed not to return, to crash into static targets located carrying a warhead of a small warhead, just over 3 kilos.
The KUBs had been located two weekends ago in a kyiv neighborhood, revealing that Russia was using them as part of its weaponry. But the Ukrainians will not be defenseless, as they too will have similar drones that the United States is sending them.
$800 million in war weapons
President Joe Biden announced an additional $800 million in military support for Ukraine on Wednesday last week, after its president Volodymyr Zelenskyy called on Congress to do more to help his country defend against Russia's military onslaught. Addressing him at the White House, Biden said the new aid package would dramatically increase the amount of military support going to Ukraine to include:
800 Stinger missile anti-aircraft systems
9,000 anti-tank weapons
7,000 small arms such as shotguns, machine guns and grenade launchers
100 tactical drones
According to the New York TimesIn addition to sending its own team, the United States is helping to coordinate donations from European countries. Defense Secretary Lloyd J. Austin III is visiting Slovakia and Bulgaria this week, in part to help in that effort. Speaking to reporters on Wednesday, a senior defense official said the United States was focusing on getting supplies fast, and the Pentagon would think about how to replenish its stockpiles later.
The official said the focus now was to make sure Ukrainians received the items quickly. The Ukrainian military needs easy-to-carry and easy-to-use defensive weapons to continue to hold back the Russian advance. The Ukrainians will succeed, according to US and European military experts, if they can operate in small teams, pummel the assembled Russian forces, and then merge for another ambush later.
US Kamikaze drones
Officially its name is Switchblade, but they call it "the Kamikaze drone": It is a small drone that is carried inside a backpack, it can be deployed quickly and be flown directly against a tank or a group of troops, destroying itself in an explosion when it reaches its target.
100 of these Switchblades will go to the Ukrainian troops, and according to Mick Mulroy, former US Undersecretary of Defense, they were designed "for the United States Special Operations Command and they are exactly the type of weapon systems that can have an immediate impact on the battlefield."
According to the manufacturer's brochure"AeroVironment's combat-proven Switchblade 300 provides conventional and special operations forces with a rapidly deployable, backpackable precision strike missile for use against targets beyond line of sight (BLOS) from mobile positions on the field or from fixed defensive positions for base security.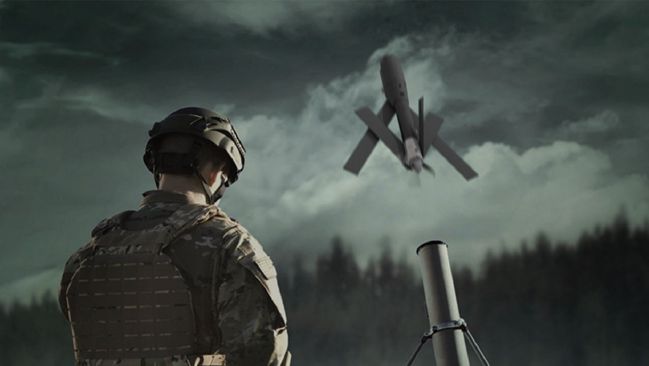 Switchblade drone
This lethal little 'missile' can be operated manually or autonomously, its small size and quiet motor make it difficult to detect, recognize and follow even at very close range. Switchblade 300 provides the operator with real-time video and Cursor-on-Target GPS coordinates for information gathering, targeting, or feature/object recognition. It is fully scalable and can be launched from a variety of air, sea and land platforms."
The drone has a autonomy of 10 kilometers, with a time of 15 minute battery, a cruising speed up to 160 km/h and a weight of 2.5 kilos.
Main Features
One person operated – launches from a tube
Can perform precision attacks
Operator selectable low side effects
System setup and launch in less than 2 minutes
Automated waypoint navigation
Effective against stationary and moving targets
modular payload
Resistance
President Zelensky further requested the S-300, a Russian-made air defense system, which the United States could request from other nations.. The US and its allies have already been providing ammunition for standard NATO weapons and those used by the former Soviet Union. Although Ukraine has modernized its military, its state defense industry continues to make weapons based on Soviet-era designs, such as Kalashnikov assault rifles. The new US package will include small arms such as rifles, pistols, machine guns and grenade launchers in standard Eastern and Western calibers.
The US Javelin and British NLAW anti-tank missiles are learned in a few hours and have proven effective in the hands of the Ukrainian military, according to the officials. "The Ukrainians have been able to destroy so many Russian tanks and armored vehicles largely because they have good conceptual plans for how to use anti-tank missiles and the courage to engage them up close in battle."a British diplomat said in an interview on Wednesday.
Kalashnikov KUB, the suicide drones used by the Russian army in Ukraine
Spain is preparing for a war in cyberspace: Russian cybercriminals
What is the Doomsday Plane and why is it operational these days
How the Tinder app served to find refuge for Ukrainian exiles
Bombing alerts and maps: the most downloaded apps in the Ukraine war
Apple and Google restrictions for iPhone and Android in Russia and Ukraine
What is a VPN network and why its use has skyrocketed in Russia these days
IT Army, the cyber-army of hackers of the Ukrainian government summoned by Telegram