Along with the presentation of its top-of-the-range Huawei P50 Pro and the flexible P50 Pocket mobile phones, Huawei today announced the launch of its first ultra-portable speaker co-designed in collaboration with the prestigious sound company Devialet: HUAWEI Sound Joy, a speaker compact and portable designed for everyday use.
IP67 and 20 centimeters.
Featuring a woven mesh design, the Huawei Sound Joy has a length of 202mm, a weight of 680g, and a diameter of 73mm, as well as dust and water resistance to IP67. In addition, its non-slip surface makes it resistant and durable in any situation.
Designed between Huawei and Devialet, one of the world's top three audio brands known for its high-quality products, the HUAWEI Sound Joy mounts Devialet's SAM technology or offers minimal distortion. The now-iconic passive transmitter with "Push-Push" technology features two diaphragms that are positioned opposite each other to offset sound waves for clearer, distortion-free sounds even at high volumes.
HUAWEI Sound Joy also adopts a 2-way speaker system to deliver high frequencies and deep bass at high volume. It includes a tweeter and a dedicated midrange and bass driver unit, which together deliver a clearer, more penetrating sound.
26 hours of autonomy
Despite its small acoustic cavity of 0.25L, the smart speaker can reach a volume of up to 79dBA (2m). Even in noisy places or outdoors, the speaker never fails users with its powerful and high-quality music.
With a 8800mAh large battery, Sound Joy offers a battery life of 26 hours on a full charge. This provides users with a worry-free audio experience when they are on the go or unable to connect to mains power. Even when the battery is running low, 40W fast charge allows users to turn on their HUAWEI Sound Joy quickly and safely. With just a 10-minute charge, the speaker can play for up to an hour. To get a full charge, you only need 3 hours.
Shake it UP
HUAWEI Sound Joy incorporates a series of intelligent functionalities that allow users to enjoy more in different situations. Shake Stereo Link Up functionality allows you to pair and connect two HUAWEI Sound Joy units to create a stereo system.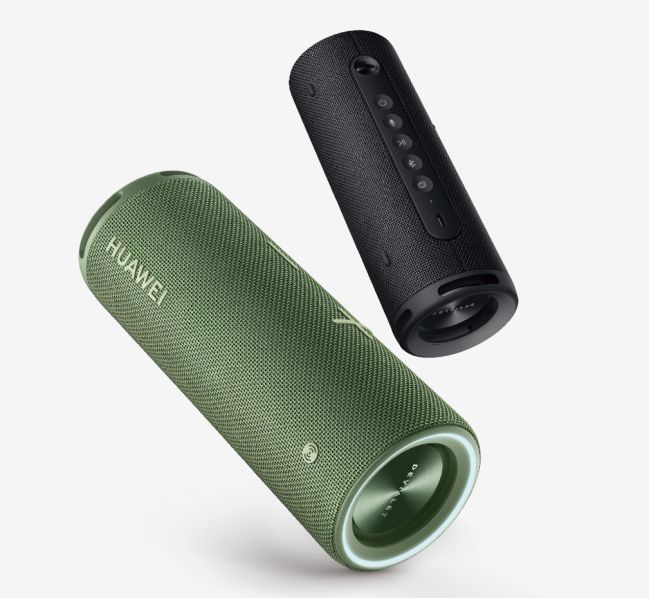 And thanks to One-Touch Transfer functionality, users can Easily connect your device to the speaker and instantly transfer your playliststhat are reproducing in it. Simply place your device against the top of HUAWEI Sound Joy. By pressing the button on Voice Assistant 3, users can send requests to the voice assistant on their smartphone or tablet, even if it's not a Huawei device, turning HUAWEI Sound Joy into a smart assistant.
connected to mobile
The way users control sound playback and volume is also smarter. The HUAWEI Watch Control functionality of HUAWEI Sound Joy allows users to puse, skip songs and increase/decrease the volume easily simply through any of the brand's smart watches.
And thanks to the functionality of Automatic Discovery, users can simply connect a nearby smartphone, laptop or tablet to HUAWEI Sound Joy with a few taps on the pop-up window that appears on your device. In addition, by bringing your Huawei mobile or tablet closer you can play your favorite music with a single touch through HUAWEI Share. You do not need any cables or additional settings on the devices.
price and date
A fun feature is that by having two HUAWEI Sound Joy nearby, simply by shaking them, you can play your music in stereo sound through both devices simultaneously.
HUAWEI Sound Joy is already in the Huawei Store and Huawei Physical Stores from January 26 this week at a recommended retail price of €149. As an introductory offer, for the purchase of more than one unit the second will be marketed at a 50% discount to get that stereo sound only until February 14. In addition, you can enjoy a free HUAWEI Music Premium subscription for 3 months.