While a film is released on his tour in the land of rock, return with Philippe Maneuver on the trip of his life alongside Johnny Hallyday. Extracts.
Paris Match. In 2014, Philippe, you joined Johnny's first American tour in New York, the US Born Rocker Tour. What condition do you find it in?
Philippe Maneuver. As soon as I walk through the door of the Beacon Theater, I realize that Johnny is worried, under triple pressure. Me, I come from Paris, in first class. It's like that, I have been warned: "If you work for Johnny, you travel first." Thanks Johnny! But he is far from his comfort zone. This tour is a childhood dream, but with constraints, since Pascal Duchêne is making a film and I am supposed to write a book about the whole trip and, therefore, do interviews with him …
Also read:Johnny, the last ride
For him, was this a bigger challenge than the traditional tours in France?
Johnny loved France, no doubt about it. But, for fifty-four years, he crisscrossed the Hexagon with all too rare adventures in French-speaking countries. For him, in love with America, there was an insane joy in singing – finally – in the United States. When we got to Texas he couldn't take it anymore. "Johnny in Texas, it looks good," he told me proudly as he stepped onto the tarmac. He was on fire. He had the urge again …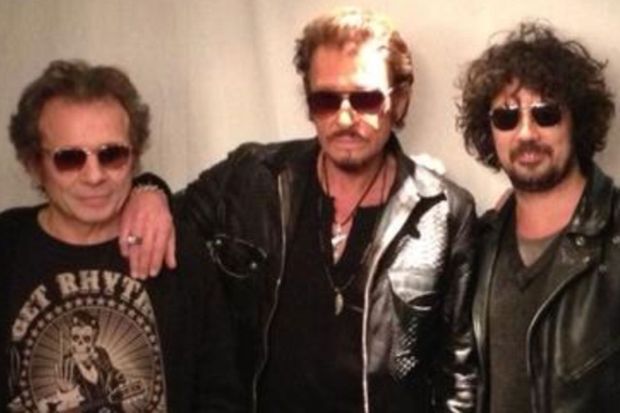 Also read:Philippe Maneuver: sex, drugs and rock'n'roll
Do you feel him more stressed in clubs of a thousand people than when he performs in the Zénith?
I'm going to tell you something that I noticed at the Val-d'Isère rock cinema festival in 1988: Johnny put the same intensity everywhere. Whether it was a club or a Bercy, he sent wildly, like a rocker. Some evenings, in the United States, he sent so much that I had the impression that he was going to explode the ceiling… Some singers know how to measure their effects. Not Johnny. He gave everything every time he stepped on stage, and that's without a doubt one of the secrets of his phenomenal success.
"My name is Johnny", the documentary by Pascal Duchêne on the 2014 tour, from December 5 on myCanal.
"Acid Flashback", by Philippe Maneuver (ed. Robert Laffont).
Find the rest of this interview in Paris Match n ° 3787 from December 2 to 8, 2021
News and Images Source