One eye on the planet, the former Police singer denounces the eternal blah-blah of politicians.
This is the first time that the Pantheon has encountered such visitors. While Foucault's pendulum waltzes, a battery makes the historic walls vibrate and a bass, the columns tremble. Surrounded by a handful of musicians, Sting gives voice under the dome. "I know what it means to play here, he reassures. And I don't take it lightly. "The singer made a trip to Paris for this exceptional concert and to defend his new album," The Bridge ". "We rarely see schedules as busy as his," slips a member of his record company.
Read also:Sting, his first date with Match
The day after his show, however, when we find him in a palace, Gordon Sumner, alias Sting, does not seem so overwhelmed. Installed on a sofa, glasses on his nose, he concentrated on the crossword of the "Financial Times". The life of a rock star is not what it used to be… "It's the only English newspaper I read. The upside is that there is no celebrity crap. "Harry Styles' new girlfriend or Meghan Markle's wanderings, very little for him. Especially since, for some time, the Englishman no longer seems to speak the same language as his country. "I see absolutely no reason to say that Brexit is a good thing," he says.
Read also:Sting: the return to full blast
For the kid from Newcastle who calls himself a "citizen of the world", putting up walls between countries is an aberration. He prefers to build bridges. Hence the title of his last record. Moreover, society as a whole leaves him perplexed. He is pessimistic about the time, alarmist about climate change, annoyed by politicians. "We don't have the right leaders to make anything happen. Staying in power is their only motivation. I agree with Greta Thunberg: what they say is blah-blah. Social networks inspire him the same feeling. He is there without being there, he explains, more out of obligation than out of pleasure. "I read the whistleblower's report on Facebook, and what she writes is not reassuring. We don't know how to control these platforms. We must legislate. "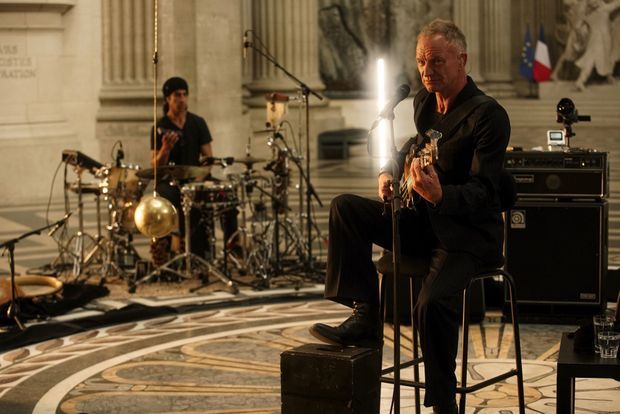 In order to escape the gloomy atmosphere, for this record he preferred to go back to his childhood, reconnect with his roots. Return, therefore, to Newcastle, bordered by the Tyne, with its freezing cold, the blackness of coal, the narrow streets of another time. "This city is a bit like me. I attach great importance to this heritage. The music of my region, I sang it. Its geography and its history irrigate my work, "he confides. The great absent from his stories are his parents. The rare times he broaches the subject, it's hard not to perceive a touch of bitterness. To the question: "What did you learn from them?" He thinks for a long time and answers gravely, "Honestly, I don't know." "And to the mention of his own children – he has six, and seven grandchildren – their difficulties in fulfilling themselves under a name as well known as his, he retorts:" Of course, it is complicated for them, but it's not easier with parents who haven't done anything. My father was a milk delivery man; my mother, hairdresser; I have not benefited from any openness to the world. According to him, if he succeeded in broadening his horizon, it would be thanks to the Beatles. When you dream of becoming a musician, witnessing the crazy rise of four Liverpool boys gives you wings.
"

Marriage is a constant negotiation, every day is different

"
Sting has widely deployed his. Thirty-five years after the end of Police and the start of his solo career, those who cross his path continue to evoke "Roxanne", "Message in a Bottle" and "Every Breath You Take". "I couldn't give a concert without these very strong songs. After all, I wrote them down. Before being Police songs, they are Sting songs! He laughs at the nostalgic people who still ask, full of hope, if the group will ever reform. "Just in case, I'll say it again: no. It's a bit childish, don't you think? Mom and dad have separated, it would be good if they got back together… It's not realistic! »To the best of my mind …
But what makes Sting famous is also his personality, sometimes surprising. This perfect gentleman, polite, sympathetic, spread a few years ago in the press, without any embarrassment, about his practice of tantric sex with his wife Trudie Styler. A visibly effective recipe since the couple have lived in harmony for nearly forty years. This marriage constitutes an inexhaustible source of inspiration for the songwriter. "Writing 'I love you and you love me' would be pointless. Marriage is a constant negotiation, every day is different. It is much more fascinating than the beginning of an idyll. The weather has no effect on the duo or on him. It's hard to believe in his 70s in front of his laughing blue eyes, his posture of a young man and this charming way of laughing when asked what inspires him his nickname of "Dalai Lama of pop". " It's true ? It makes no sense ! Let someone write about me is part of the contract. I don't care, I don't read. "
"

If I am being scrutinized all the time, I cannot observe. And if I don't watch, I don't see how I can write good songs

"
Notoriety at home is not a concern. He is always on the move, travels whenever he can, swims every morning, walks several kilometers a day. He refuses to have an army of bodyguards. "I offer myself this freedom. Most people have no idea it's me. I see it in their eyes: is it him? Truly ? Impossible ! "And yet, with each visit to Paris, the world star takes a walk in Parc Monceau. Among his habits, also that of sitting in the back of a restaurant to observe people and imagine their history. He is curious, constantly "intrigued", the term comes back to him like a refrain. "If I am being scrutinized all the time, I cannot observe. And if I don't watch, I don't see how I can write good songs. "When the few people who do not recognize him ask him about his livelihood, he remains vague:" I answer that I am a musician. I'm sick of talking about myself. Psychoanalysis, not his thing either. He makes fun of it nicely in his texts, he who has never tested the exercise, for lack of time, he admits, and obviously envy. "That's what we're doing here: I'm telling you my life story. You are kind of my shrink! Be careful, I will soon be expressing myself on my relationship with my mother, "he jokes.
For now, he prefers to focus on his links with other artists. One of the most frequently asked questions about him on Google is: "Why did Sting sing with Gims?" »« 'Reste' was a hit! I think that answers the question! The singer is accustomed to surprising associations: Mylène Farmer, Shaggy, Zucchero, Cheb Mami, Lady Gaga… Each of these artistic collaborations has taught him something – a new musicality with Shaggy, a different phrasing with Tony Bennett… After fifty years of career, Sting, perpetual student, continues to work his voice, to perfect his bass chords several hours a day. Until when ? The question burns lips… After a word on Charlie Watts, the drummer of the Rolling Stones who died in August, whom he never met but for whom he felt a deep admiration, Sting adds: "Me too, as long as I can make music, I will. "Until the end then? " Yes. In a walker, if necessary! "
"The Bridge" (Polydor / Universal). French tour from March 24, 2022.
News and Images Source